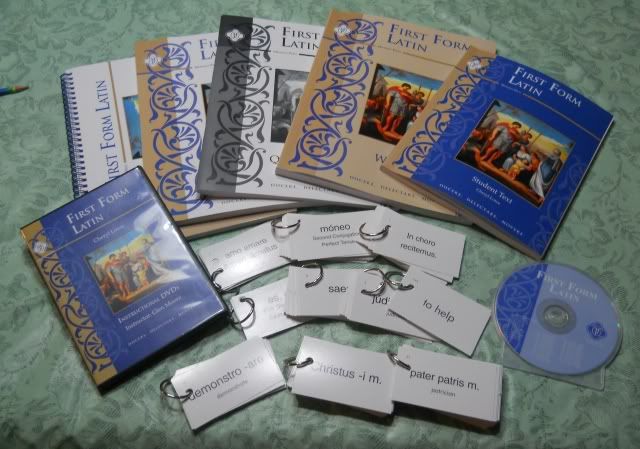 We received the First Form Latin set as pictured here with the exception of the jump rings which we added to the extensive set of vocabulary cards provided. With such a comprehensive package, we started simply with the audio CD. We are in the van a lot and later after watching the DVD lessons, too, this was a great way to reinforce the Latin language.
The DVD lessons are a great addition to the books and teacher's guide, especially for a parent teacher who is not fluent in Latin. The DVD teacher is easy to listen to. He calls the basic first memorization chart the "secret decoder ring" of Latin.
Both of my girls used this at first. Even my 2nd grader listened and repeated when instructed on the DVD. My 6th grader found it challenging, but my 8th grader enjoyed it and asked to continue with additional lessons. The teacher's guide was easy to follow, though when I marked one answer incorrect she had to point out that the answer key only gave one answer when there was, in fact, another option. She aced the first exam!
From Memoria Press:
The uniqueness of the First Form Series lies in two features:
It is committed to the trivium model of teaching grammar systematically in order to facilitate retention and understanding, rather than topically, to facilitate translation.
Extensive workbook exercises ensure skills mastery and rapid recognition of inflected forms.
Features include:
Designed for students and teachers with no Latin background

8x8 inch Student Text, small, concise, unintimidating w

ith 34 two-page lessons on facing uncluttered pages
Limited vocabulary of 185 words
Full-size Student Workbook with 4-6 pages of exercises per lesson
Vocabulary derivatives and detailed explanations of Latin sayings
Grammar catechism for daily rapid-fire review
Milestone markers for each grammar objective
Everything-you-could-possibly-need teacher manual

Organized for easy access
Student Text inset with answers in color
Chalk-talk scripted lessons
Recitation schedule
Pronunciation reminders
Workbook with key
Unit tests and lesson quizzes booklet
FYI section for extra background
First Form
's grammar-first approach focuses on grammar forms and vocabulary because those are the grammar stage skills suitable for the grammar stage student. However, the
First Form
Series
is for students of all ages because all beginners, regardless of age, are in the grammar stage of learning. Syntax (how to use the grammar) and translation are logic and rhetoric stage skills, respectively, and quickly overwhelm the student unless they are introduced at a slow, gentle pace and taught for mastery.
First Form
is the ideal text for all beginners, grades 5 & up, or is a great follow-up to
Latina Christiana I
at any age.
After mastering First Form, the student will have a solid grasp on the six indicative active tenses of the first two verb conjugations, five noun declensions, first and second declension adjectives, and 185 vocabulary words.
This entire First Form Latin including student textbook, student workbook, teacher manual, test book, answer keys, CD, and DVD set is available for $115. There is also a yahoo group you may link to from
Memoria Presses website
.

Disclaimer: As a reviewer for the 2011-2012 TOS Homeschool Review Crew, I was given a complete set of this program for the purpose of this review.

Be sure to check out other reviews at the
TOS Homeschool Crew Blog.